Active Health Supply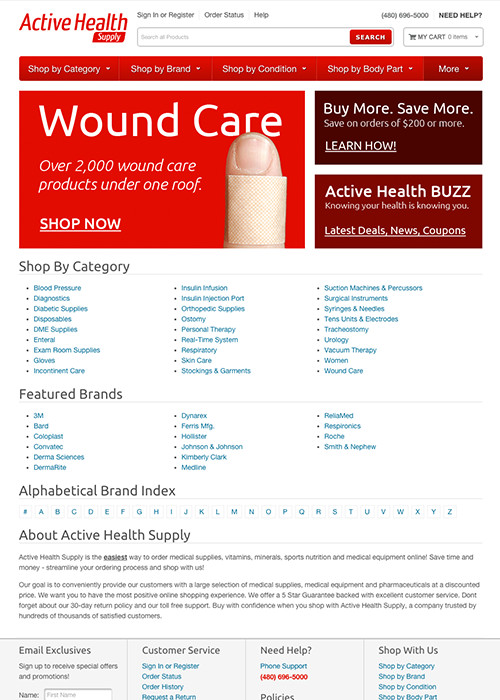 Introduction
Active Health Supply is an Internet retailer of medical supplies and other life enhancing products. It is also Evocode's first product launch from an initial concept, design, development, to an on-going marketing campaign. Since the initial launch in 2008, Active Health Supply has proven to be one of our most successful ventures and an invaluable tool into understanding the business requirements of launching and marketing an eCommerce business.
Platform Evaluation

We performed an extensive analysis of a dozen eCommerce engines to select the most ideal platform. With a catalog of 60,000 products that need continuous updates to pricing and product information, we knew this was not your average eCommerce build. After our exhaustive evaluation, we found the best platform for extensibility as well as easy maintenance.
There was only problem, it was new, and lacked a lot of complex functionality out of the box. However, with an extensible core and plugin system, we knew that we could build the necessary functionality that is specific to our requirements.
Faceted Search Engine
We built one of the fastest and most user friendly faceted navigation systems on an eCommerce store. We evaluated hundreds of websites from major retailers, combed through many documents of user research and usability testing from several universities and industry leaders, and studied several books on faceted search architecture. This information proved invaluable in developing our own solution.
The faceted navigation on Active Health Supply offers hundreds of facet filters, millisecond response times, with multiple listing modes and sorting features. We employed an aggressive caching system to make secondary searches near instantaneous. We didn't stop there, we also created a cutting edge search system to easily find products based on common health conditions or even body parts. This robust search system allowed Active Health Supply to stand out from the competition and offer a better user experience for the consumer.
Data Automation
In order to prevent pricing errors between our vendor and the end consumer, we knew we needed to to apply some automation around keeping the catalog up to date. With 60,000 products it would require a large team to track and make manual updates when the catalog changes. The medical supply industry vendors are slow to adapt cutting edge technology, so we had to be creative with our approach.
In cooperation with the vendor we developed a crawler that could analyze the 60,000 products in mere minutes. This information was fed into a dashboard so that we could detect pricing changes across the entire catalog down to the micro level of each individual project. Each change was fed into an admin panel where the updates can be applied in batches after manual review. With this system, we can easily spot pricing trends, and modify our catalog to protect our margins while still offering the best value to the consumer.
Marketing Campaign
After launch we quickly set out to marketing our new venture. We setup a robust pay per click marketing campaign with a custom developed conversion tracking system. After doing keyword research we applied them to the campaign and our system monitored the results. Our custom solution even calculated the ROI and automatically pulled keywords that were not performing within user defined metrics.
This end result was an automated marketing campaign that scaled from $1 to thousands per month, without manual intervention.